Day 38 yadda yadda Omer blah blah blah.
Yesterday was my mother's birthday. Oddly, I recieved a present from her. She picked up a couple of sidurim for me at a Judaica shop in Vienna (correct in the comments if I'm wrong, Mom) several weeks ago while on vacation.
The first, this slim black volume, is part 9 of a set of sidurim.
Its cover is black cloth, with a great impression design thing on it featuring the two tablets, a kohen's breastplate and a variety of festival-realted symbols including a shofar.
As you can see below, this sidur or, in German, this gebetbuch, is for Shmini Atzeret and Simchat Torah and it comes with a parallel "targum Ashkenazi," or German translation. It was published in 1917 in Frankfurt am Main by Drud und Berlag van M. Lehrberger & Co. The translation is by Pinchas Halevi Bamberger, or Rabbi Dr. Selig Bamberger, who according to this site, was also responsible for a German translation of Tanach.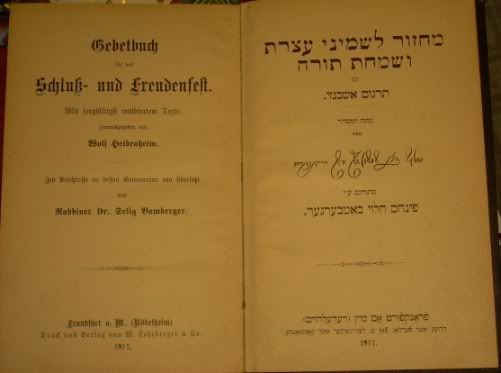 Here's a shot of the side-by-side translation. You can see how the Shma is clearly set apart in the translation. You don't have to know German to notice it.
The other sidur I was given has a green cover with similar symbols to the black one on its cover. It was part 2 of a set.
It was published in 5630 (or 1871) by Verlag von Josef Schlesinger's Buchhandlung, which was located at no. 5 Seitenstattengasse. This sidur is for Pesach, Shavuot, Sukot, and Shimini Atzeret in the Sfarad minhag.
You can see that the instructions are written in a different typeface, some kind of Rashi script, I think.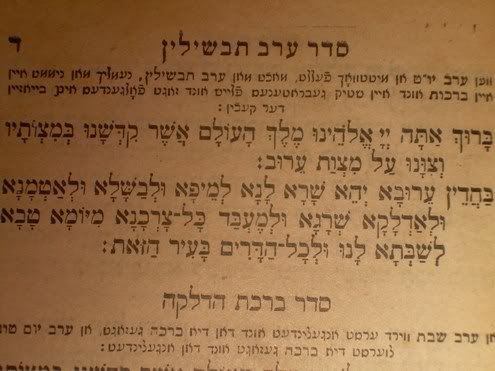 So that's way fun.
And now, the Omer: