Get ready for the biggest blowout most gigantic very large post this blog has ever seen.
First, some general Israel-related bloggery that has come across my Google Reader recently:
One of my Jewish history teachers from my semester in Israel is featured prominently in this new ad for El Al. He is the first guy that you see in the commercial, with the striped shirt, slight beard, and a kipah on his head.
Gilad Benari, an Israeli photographer who I previously featured here, posted this beautiful picture of the moment of silence in Israel on Yom Hazikaron.
David Singer, blogger of Thinking Jewish, has these thoughtful, touching sentiments for us in honor of Israel's 60th.
Jewlicious' summary of some of the stuff going on outside the event with which the rest of this post concerns itself.
On to my review of last night's Yom Ha'atzma'ut festivities.
A few weeks ago I heard about this big concert at Radio City Music Hall in honor of Israel's 60th. It sounded pretty good, but I didn't think much of it, figuring I couldn't afford a ticket. A few days ago, however, I got an email from Hillel telling me that Lisa Brenner, a professor at Drew had come into a few extra tickets to the event and would I like to go? I immediately emailed back that, yes, of course I would like to go.
And so, last night I set out from Madison for Radio City Music Hall with Erik Emdur, immediate past president of the Drew student body; Lara Portnoy, leader and founder of Drew's Middle East Student Association (MESA) and the sole reason Drewids can now stud abroad in Israel; Mike Chevinsky, the ironically Jewish president of College Republicans; Professor Jonathan Golden, Hillel advisor; and Golden's fiancée, Priscilla.
We arrived at Radio City to find that across the street were some pro-Palestinian protestors. I'm frankly glad that they were there because it is easy to become swallowed up in national pride on this of all days. But, like the Egyptians that died for our redemption from slavery, there are now Palestinians suffering because of our modern sovereignty in our homeland. We cannot forget that and we must take responsibility for it. On a more humorous note, across the street from the protest was a pro-Israel counter-protest.
Outside the entrance to Radio City was an insane mess of Jews of all stripes all trying to figure out how to get inside. One man I exchanged a glance with in the crowd said to me, "It's like a Birthright event gone crazy!" Once inside, our bags were searched and each individual person was magic wanded. In addition to the Radio City security guys, there were a bunch of barrel-chested Mosad agents standing around menacing everyone. We finally made our way up to the second mezzanine where our seats were. We had an unobstructed view of the stage, but we were about 87 miles from it and all the performers looked like ants. Luckily, they had cameras and were projecting the proceedings up on two big screens on either side of the stage.
There was a moment of silence for Yom Hazikaron in progress when we arrived. This was followed by Habanot Nechama's American debut, singing Hatikvah. Over the course of the next 45 minutes or so we received speechifications from Israeli UN Ambassador Dan Gillerman, a variety of UJA bureaucrats, NYC Mayor Michael Bloomberg, and Governor David Patterson. Patterson, the first black, blind governor in US history apparently was recently genetically tested and found that he had some distant Eastern European Jewish blood. With this in mind, he temporarily appointed himself "a member of the Twelve Tribes" for the night, which caused a bunch of Orthodox folks to visibly squirm. ("He hasn't even been to the mikvah!")
Mayor Bloomberg (this picture and those that follow are from Lara Portnoy's camera: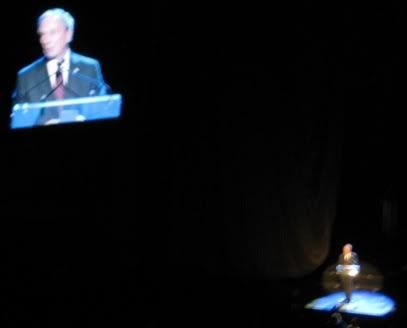 Then, get this, we had a pre-recorded video address from President Bush followed by a video address from Prime Minister Ehud Olmert, who, in true Israeli form "congratulated" us on everything. For some reason, I think that Israelis have special trouble with the word congratulate. They use it for everything when they speak English! "Wow," said Erik, "two crook politicians back to back!"
President Bush: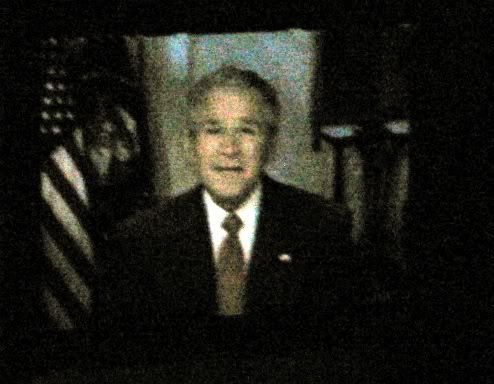 Prime Minister Olmert:
When the music finally got started, the absolute best surprise of the evening happened. It was revealed that Natalie Portman (!) was our emcee for the evening. I almost fainted. No joke. This was probably the coolest thing ever. If you know me, you know that I have a major crush on Natalie Portman. What self-respecting straight American Jewish male doesn't!
Natalie Portman: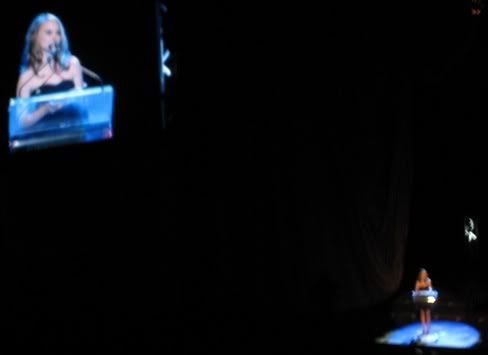 Natalie introduced Rami Kleinstein and his band, whom she called the evening's "house band." I'd never heard of the guy, but all the Israelis in the audience clearly had, being that they sang along with everything. The guy was quite the performer, climbing up on the vacant private boxes along the sides of the theater. The spotlight-operator has serious trouble tracking him.
Rami Kleinstein:
Matisyahu was on next. When Natalie introduced him, she tried to shake his hand, but he got all shomer negiah and wouldn't do it. I can't imagine passing up an opportunity to shake her hand! I was pretty excited to see him, but he was pretty disappointing. He sat on stool, all hunched over the whole time, beat-boxing and mumbling some nigunim for a few minutes. Then he sang a rather unenergetic rendition of his song, "Jerusalem, if I Forget You". He then introduced The Idan Raichel Project, who were way more fun live than they are on CD. Matisyahu stuck around for one number with Idan Raichel.
Raichel and Matisyahu: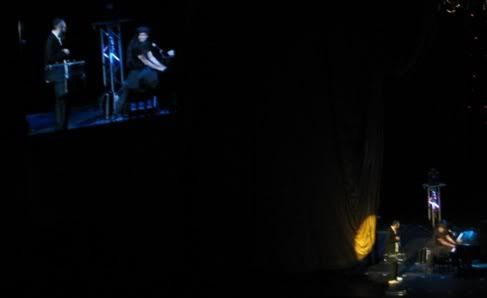 After Idan Raichel, we got Yael Naim, whom I was looking forward to most. If you don't about her yet, she's pretty new on the scene. Steve Jobs picked her single "New Soul" to be in a MacBook Air commercial a while ago and the song immediately rocketed to a top ten position on American charts, a first for an Israeli musician. She lives in Paris now, I think, and sings in Hebrew, English, and French, which make her the sexiest person ever, officially. She sang a couple of her own songs, including, of course, "New Soul" along with a hilariously better-than-the-original cover of Britney Spears' "Toxic". Naim's music is sort of pop singer-songwriter throwback stuff. It has a very first half of the 20th century sound. She was ubercute on stage and her between-song-banter was hilariously adorable.
Yael Naim: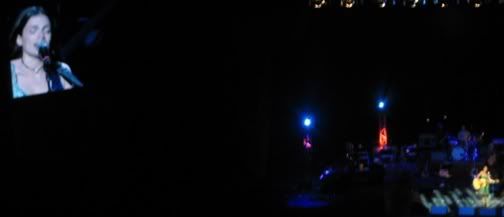 She explained the meaning behind her song, "New Soul". She said that people are always saying how they think they have an old soul, meaning that their soul has been through many incarnations, but she says she always makes so many mistakes that she must be a new soul.
After her, we got Habanot Nechama, who were quite good, followed by David Broza, the rock star laureate of Israel. He was a totally frenetic, intense stage presence, breaking two strings on his guitar by the end of his set. He sang "Ani V'atah" and "Yihyeh Tov", which are both very well-known songs in Israel. He explained that he wrote "Yihyeh Tov" with Yonatan Geffen while watching Anwar Sadat step foot on Israeli soil for the first time. He mentioned that he will keep playing the song until peace in Israel is achieved. He thought when Anwar Sadat came to Israel that it wouldn't be long. Instead, he said, here we are decades later and he's still singing the damn song.
Something pretty random happened next. Paul Schaffer (yes that Paul Schaffer) and Richard Belzer (yes that Richard Belzer [OK, so that last clip was irrelevent, but admit it: it's funny] ) came out to do a very strange half-musical not-very-funny translation of a Yiddish comedy routine that their parents used to listen to.
At the end, all the performers (save for Matisyahu) came out, joined by Joshua Nelson and the Kosher Gospel Singers, for a mind-blowing rendition of Leonard Cohen's "Hallelujah"!
All in all, it was a pretty great evening. Not even when I was in Israel have I ever felt so much nationalist fervor.
And now I leave you with our daily Omer paintings by Pauline Frankenberg and this cool gematria-esque thought: Did you ever notice that the 18th (chai, life, etc) day of the Omer is the day on which our people revived the Jewish Commonwealth?