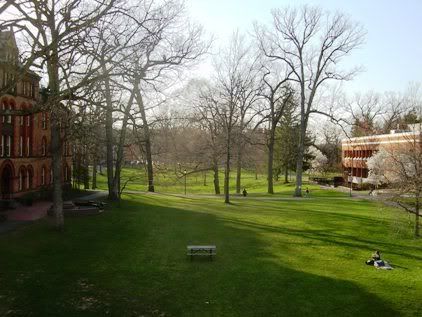 I've been giving a lot of thought lately to the intersections of ritual and nature. One of my classes this semester, Religions of Japan and China, has arrived recently at our unit on Shinto, a profoundly nature-reverent tradition, the beauties of which I find myself totally captivated by more than any other tradition we've studied in this class.
The weather here at Drew University has finally taken a turn towards spring. It is 66 degrees out this afternoon. People are reading on the lawn outside my window (see pic. above), I'm inside writing a paper, but I really want to be outside right now.
This change in the weather comes at a rather auspicious time, liturgically speaking. Pesach begins in a few short days and with it comes a seasonal liturgical change. We will begin saying "morid hatal" instead of "mashiv haruach umorid hagashem" in G'vurot, invoking God as one who condenses the dew rather than causing the wind to shift and the rain to fall.
I came to fully understand the timing of this change last year when I was in Israel for the other end of this cycle, when we went from "mashiv…" to "morid…." Quite literally on the day that we switched, the weather changed, so in tune with the climate of Israel is our liturgy.
And how wonderful that here, in northern New Jersey, I find the weather shifting just on cue as well.