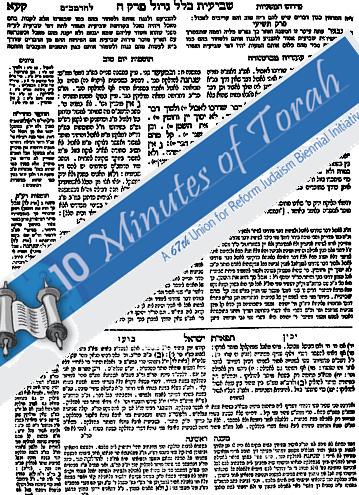 BZ, author of Jewblog Mah Rabu, writes today at Jewschool to point us to a quite amazing new development in the Union for Reform Judaism.
For a few years now, the URJ has offered a daily e-mail (or RSS feed, as I prefer) called Ten Minutes of Torah. Each day of the week has a different theme and every entry is written by a different Reform rabbi or scholar on a different topic. Some of them are good, some of them are rather not.
Tuesday, formerly Hebrew Connection-themed, is now Mishnah Day at Ten Minutes of Torah! This is pretty remarkable. The Reform movement has been traditionally pretty allergic to Talmud, excepting catchy aggadot (for which we needn't turn to Talmud anyway because of Sefer Ha-Aggadah).
I'm excited for us. I think that this is a 100% good thing for Reform Jews and that it will help us connect to a part of our tradition which has been traditionally shunned by our movement.